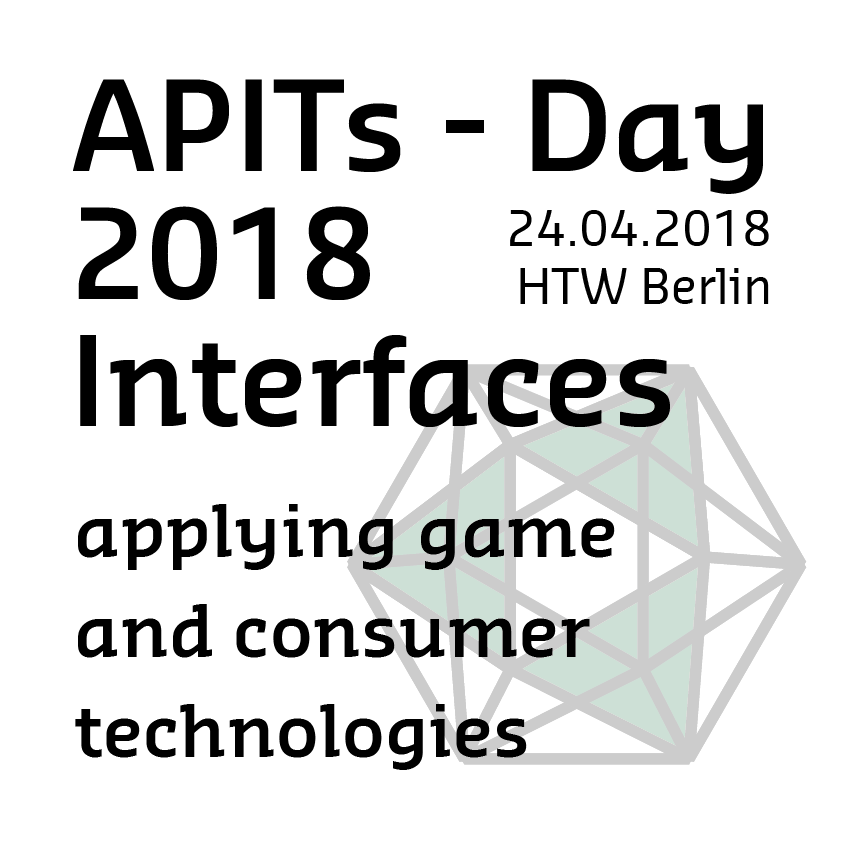 Der APITs-Day 2018 des Anwendungszentrums "creative Applied Interactive Technologies" ermöglicht es Unternehmen, sich über die Potentiale der Anwendung von Technologien aus der Consumer Electronics- und Games-Branche in nicht-Unterhaltungskontexten zu informieren. Nach dem erfolgreichen Auftakt 2017 treffen Sie auch dieses Jahr spannende Anbieter_innen und vernetzten sich mit anderen Unternehmen über Cluster-Grenzen hinweg.
Als Technologie- und Innovationsmotor treibt die Games-Branche seit Jahren die Entwicklungen im IT-Bereich an: Schnelle Prozessoren, große Arbeitsspeicher und Speichermedien sowie leistungsstarke Grafikkarten werden vor allem von Spielern nachgefragt. Doch zunehmend weist diese Branche auch immenses Innovationspotential für andere Wirtschaftszweige auf. Beispielsweise in der klassische Industrie, dem Handel, dem Handwerk oder im Gesundheitsbereich:
Mit einer "Augmented Reality"-Brille Hands-free in der Montage Anweisungen und Live IoT-Informationen angezeigt bekommen.

Kunden mit Virtual Reality oder Augmented Reality das Produkt oder die Dienstleistung virtuell testen lassen (Möbelverkauf, Einrichtungs-/Renovierungsarbeiten, Hotelanlage, etc).

Arbeiten von Gesellen oder Konsumenten/Kunden mittels Augmented Reality und Video-Streaming durch den Meister/Experten bedarfsgerecht als Mentor unterstützen.

Personen- und Bewegungssensoren (z.B. MS Kinect oder Asus Xtion) zur berührungslosen Steuerung von Maschinen oder dem Monitor im Operationssaal nutzen.

Game Engines zur Simulation und Visualisierung von Prozessen und Systemen (Architektur, Weiterbildung, Kundenkommunikation).

Haar-, Stoff- und Körperanimationen für den virtuellen Spiegel am Kleiderschrank oder POS.

Wearables, Game Engines und MR Heads-up Displays in der Landwirtschaft 4.0
Durch die Ausrichtung der Technologien auf den Endkonsumentenmarkt sind diese Dank positiver Skaleneffekte vergleichsweise günstig und einfach zu erwerben – VR-Brillen zwischen 90 und 900€ finden sich in jedem Elektromarkt – sowie sehr ausgereift.
In Kooperation mit einem Partner aus der Games-Branche können so schnell Lösungen für die eigenen Anforderungen entwickelt werden.
FOR MORE INFORMATION VISIT THE OFFICIAL WEBSITE OF APITs-DAY
TUESDAY


APRIL 24, 2018
9:00 – 18:00
Teilnehmer müssen sich über den Eventbrite Shop
des Events im voraus anmelden.
IMPRESSIONS OF APITS-DAY 2017
HTW BERLIN

Wilhelminenhofstraße 75A, 12459 Berlin
Rathenaustraße/HTW
Tram 27, 60 and 67
Your Server is Unable to connect to the Google Geocoding API, kindly visit
THIS LINK
, find out the latitude and longitude of your address and enter it manually in the Google Maps Module of the Page Builder