March 7, 2018
With games, playful installations, talks, workshops, VR and music, another colourful A MAZE. / Berlin program awaits you. This year with an extra conference day and an extended exhibition until Sunday.
The A MAZE. / Berlin team is going for more transparency than ever. Meaning: You can see their work in progress schedule grow online: https://amazeberlin2018.sched.com/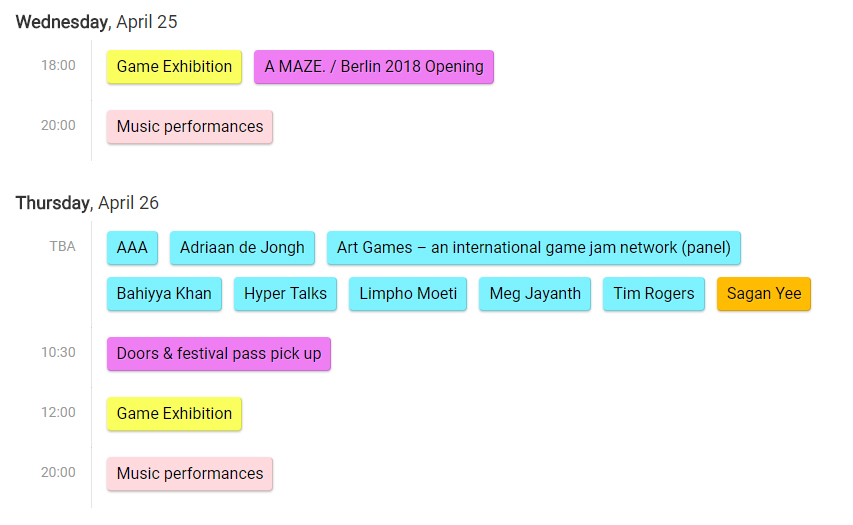 OUR PERSONAL HIGHLIGHTS
Sarah and Colin Northway. Indie game developers since 2007, well known for making games while traveling the world. Among their games: Fantastic Contraption VR, the one-button arcade game Deep Under the Sky and Incredipede. Sarah is the creator of the Rebuild strategy series. Colin is now working in VR on the Museum of Other Realities (http://northwaygames.com).
Meg Jayanth. Award winning writer (IGF Narrative winner, nominated for four BAFTAs – including Best Story – & TIME's Game of 2014) and former BBC producer. She contributed to Horizon Zero Dawn, Sunless Sea + Sunless Skies (http://megjayanth.com/).
Robert Yang. Game developer of popular games about gay culture and intimacy – he is most known for his historical bathroom sex simulator The Tearoom and his male shower simulator Rinse and Repeat, and his gay sex triptych Radiator 2 has over 150,000 users on Steam (https://radiatoryang.itch.io/)
We're looking forward. See you there!
A MAZE. Facebook: www.facebook.com/amaze.festival/
A MAZE. Twitter: https://twitter.com/AMazeFest
Website: http://amaze-berlin.de/