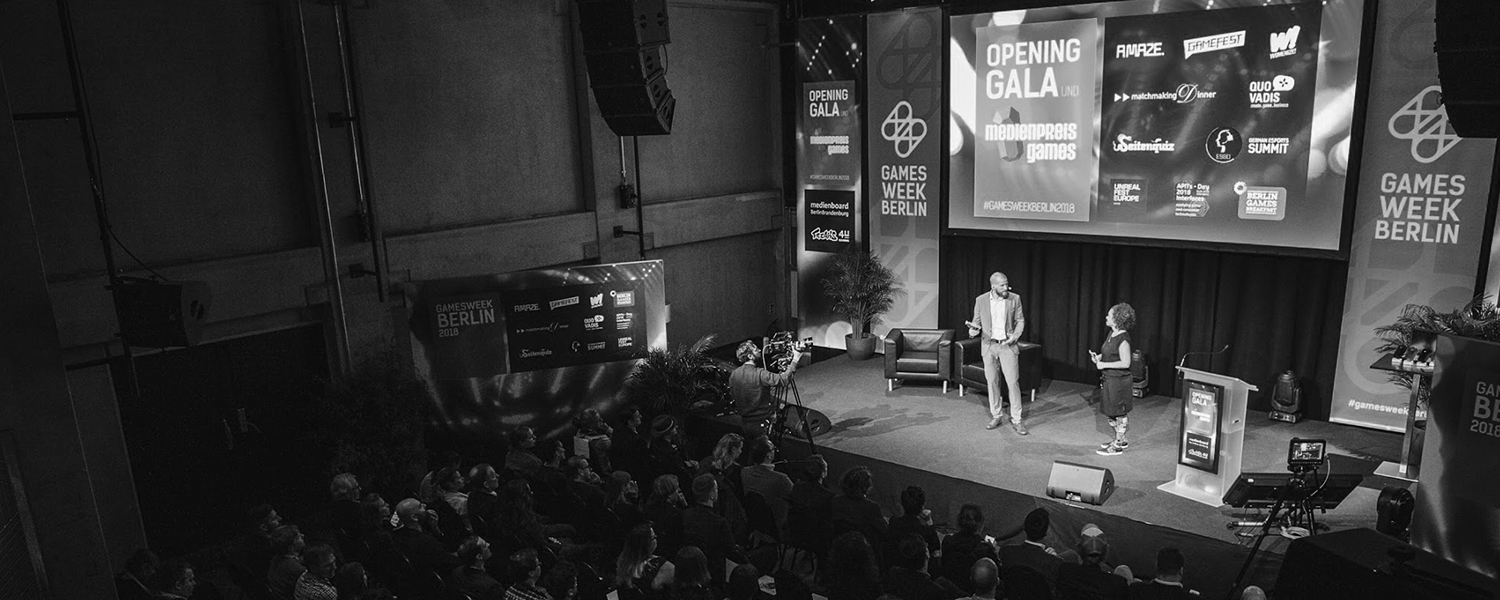 ---
New location and dates for postponed gamesweekberlin PRO X | Gamefest cancelled
We are afraid to inform you that all physical events of gamesweekberlin 2020 had to be cancelled. Due to the increased risk of the new Coronavirus/COVID-19, the gamesweekberlin PRO X events Opening Breakfast, QUO VADIS – game development & business conference, Womenize! Games & Tech and Matchmaking Dinner cannot take place as planned this fall (October 29-30, 2020) in cooperation with the consumer fair EGX Berlin. Herewith we follow the political guidelines provided by the Berlin Senate Department for Health, Care and Equality. 
Your tickets retain their validity. If you are unable or do not want to participate at the new date, we will of course refund the purchase price. 
The A MAZE. / Berlin Festival of the ART X is also postponed and will now take place July 22-25 at Neuzeit Ost in a new and exciting digital format. 
Unfortunately we see ourselves forced to cancel the gamesweekberlin PLAY X, including Gamefest, completely. All valid tickets will be refunded.
About our reasons: Our event partner EGX Berlin cancelled their consumer event We have consulted our partners and the community of game developers, have prepared with extra courses and ideas on how to to treat the situation with the appropriate professional seriousness. We developed a plan to ensure that the events were as hygienic as possible. Here, our location partner KulturBrauerei proved to be very forthcoming and inventive. But at the end of the day, it would have been irresponsible to carry on, even with heightened security measures. Our B2B conferences are always attended by an international audience, our B2C event is packed with people and high maintenance due to the many controllers, devices and other interfaces which would have been shared.    
Of course we struggled with the idea of postponement because we as a team have spent much of this year and the past year making sure that you will have an insightful and productive gamesweekberlin experience. While we were preparing our actions to inform you about our final decision, political reality has caught up with us. The Berlin Senate decided on Wednesday to ban all events with 1000 or more people. 

In any case, we believe the (medical) authorities who say that events like gamesweekberlin will increase the speed of infections. This is all very regrettable, but we firmly believe this is the right thing to do.