---
---
---
Location:
Computerspielemuseum
Karl-Marx-Allee 93a
10243 Berlin
www.computerspielemuseum.de
Öffnungszeiten:
Mon:  10:00 – 20:00 Uhr
Tue:   10:00 – 20:00 Uhr
Wed:  10:00 – 20:00 Uhr
Thu:   10:00 – 20:00 Uhr
Fri:     10:00 – 20:00 Uhr
Sat:    10:00 – 20:00 Uhr
Sun:   10:00 – 20:00 Uhr
---
Öffentliche Verkehrsmittel:
U-Bhf. Weberwiese
U-Bahn: U5
---
Tickets:
Normal: 9 € (ab 18 Uhr 7 €)
Ermäßigt: 6 € (ab 18 Uhr 5 €)
Familienkarte: 19 € (ab 18 Uhr 16 €)
max. 5 Personen, max. 2 Erwachsene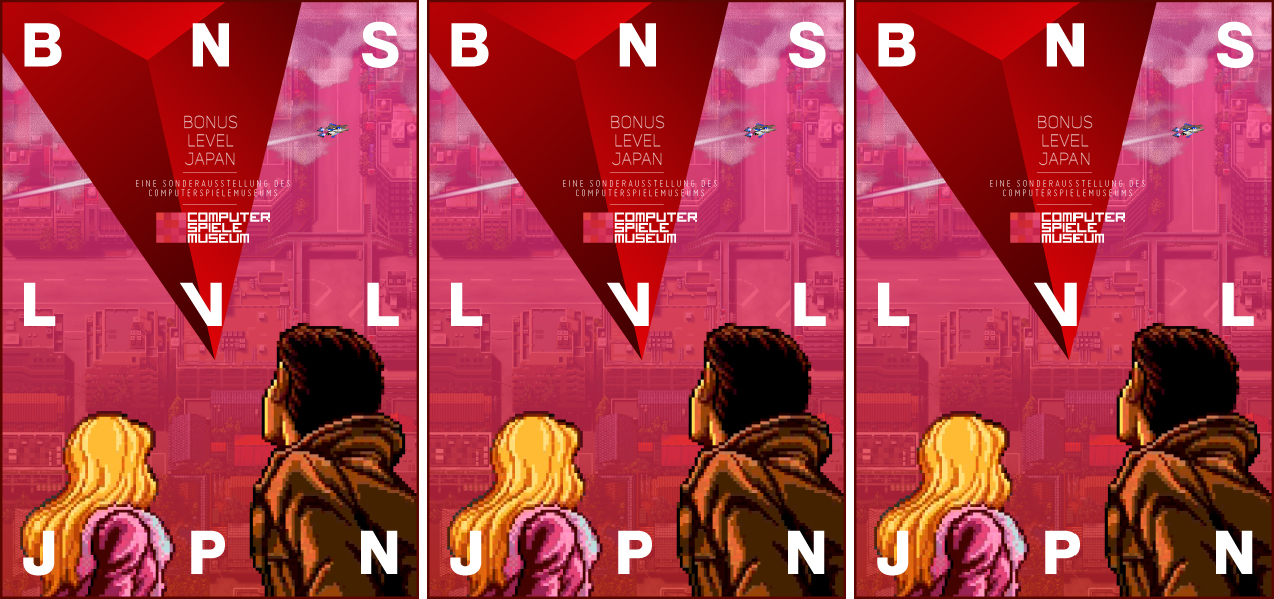 Neue Sonderausstellung des Computerspielemuseums:
BONUS-LEVEL JAPAN
Am 08.04.2019 eröffnet das Computerspielemuseum im Rahmen der gamesweekberlin seine neue Sonderausstellung.
BONUS-LEVEL JAPAN.

Passend zur japanischen Kirschblüte lenkt das Computerspielemuseum den Blick auf die Videospielkultur Japans. Im Fokus stehen dabei die Entwicklungsgeschichte der dortigen Spieleindustrie, öffentliche und private Gaming-Kultur sowie die Wechselbeziehung zwischen japanischer Gaming- und Popkultur. Die japanische Gaming-Kultur hat seit den späten 1970er Jahren großen Einfluss auf weltweite Spieleentwicklungen und -produktionen. Dennoch bleiben viele Veröffentlichungen, Trends und Technik für amerikanische und europäische Konsumenten schwer zugänglich.
Die Ausstellung 'BONUS-LEVEL JAPAN' lässt den Blick in die Ferne schweifen und ihre Besucherinnen und Besucher die japanische Computer- und Videospielkultur an zahlreichen interaktiven Exponaten selbst erleben – ob am Heimcomputer, Mobilgerät, Arcade-Automaten oder an der Videospielkonsole.
Die Ausstellung wird gefördert vom Medienboard Berlin-Brandenburg.
On 08.04.2019 the Computer Games Museum opens its new special exhibition at gamesweekberlin.
BONUS-LEVEL JAPAN.
Befitting Japanese cherry blossom, the Computerspielemuseum draws attention to video game culture in Japan. The exhibition's focus is on the history of the Japanese games industry, public and private gaming culture, and the interaction between Japanese gaming and pop culture.
Since the late 1970s, Japanese gaming culture has had a major influence on global game development and production. Nevertheless, many publications, trends and technology remain hardly accessible for American and European consumers.
The exhibition 'BONUS-LEVEL JAPAN' allows visitors to experience the Japanese computer and video game culture for themselves at numerous interactive exhibits – whether on home computers, mobile devices, arcade machines or video game consoles.
The exhibition is funded by Medienboard Berlin-Brandenburg.
#bonusleveljapan #bnslvljpn